Tour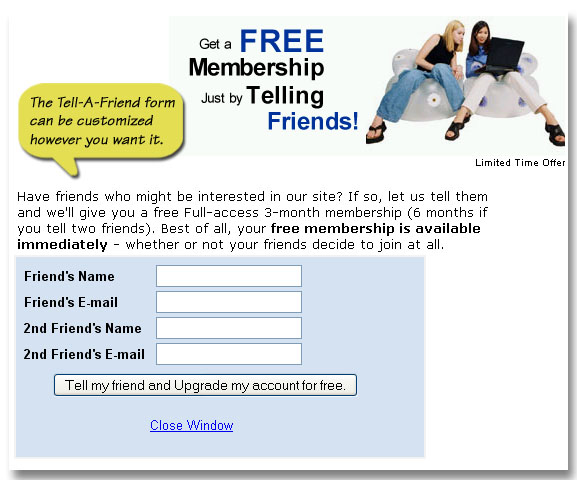 Click to enlarge
Word-of-mouth Advertising
No advertising medium is as powerful or effective as word-of-mouth - and it's free! Tell-a-Friend leverages the ability of your current customer base to advertise for you by encouraging your customers to refer your services to one another - a technique known as "viral marketing."
Tell-a-Friend makes it possible to grow your subscriber database exponentially.
Enables your customers to easily refer/introduce their friends and colleagues to your company while signing up to receive communications from your company.
Track which customers are referring the most friends and the conversion rates from those referrals.
Create incentive based programs to reward your customers with the most referrals.
Tell-a-Friend gives you the ability to advertise in a way that is more personal, relevant, and effective.
In addition, with Tell-a-friend's "Affiliate Program" option you can reward users for referring their friend with free credits and/or class upgrades.
Features
| Feature | Benefit |
| --- | --- |
| Different message texts can be sent to the user. | You can change the message sent depending upon where the user refers from. For example, if the user clicks refer on the main page you can send the friend one text email, if they click from a special section within the site, send a different message. This might be useful for such things as a direct reference to a forum message, or database record. |
| Specify the exact url to return. | This might be useful should you want to send a new user to a special welcome page. |
| Each referral submit is logged to a text file | Build a list of e-mail addresses for future marketing promotions. |
| Affiliate Program | Reward users for referring their friends with free credits/payments and/or class/service upgrades. It will auto assign users selecting the tell-a-friend module a 'referral id' and appropriate URL link so they can keep track of, and get credit for, their referrals. Users are automatically e-mailed when their referrals create an account. You can also set up a link exchanges with other web sites. |